Play Kitty Bubbles online in your browser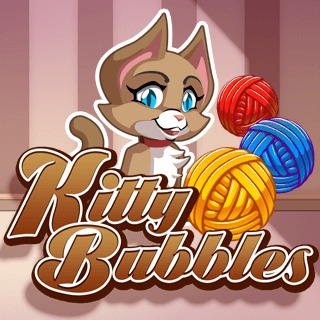 Online Bubble Shooter - Kitty Bubbles
This free HTML5 game for Android and iOS devices is a super cute online Bubble Shooter that combines two of the most famous things of the internet: Kitties and bubble shooters! It has definitely earned its place in this Top 10 list.
Play as the cutest Kitty
Kitty Bubbles is just as addictive as Smarty Bubbles and comes with a cuteness overload in the form of a little kitty that shoots balls of yarn onto the field.
Kitty Bubbles will melt your heart even if you are the Grumpy cat itself or have a tendency to hate everything like Professor Snape does. This beautiful little online bubble shooter can be played directly in your browser on any Android smartphone or iOS device, including tablets. And of course on your PC or Mac if you like playing on the big screen. You can immediately play this game online without any download or waiting time. It's instant, it's free and it's definitely worth your while.
This is officially the cutest of all of the online bubble shooters in our Top 10 list. You play as a little kitty fluffball and have to shoot balls of wool at other balls of wool. This game is fluffier than new born baby bunnies!
Cute looks with a nice challenge
As usual your goal is to clear the field from all bubbles. It is not as easy as it sounds. If you're not playing strategically and try to remove bubbles with almost every shot, this game will punish you by adding new lines of bubbles on top of the screen. So despite its cute looks, this is actually one of the more challenging online bubble shooters. But it is definitely one of the best and therefore earns its place in this Top 10 list.
Fun for everyone
It may look a little "girly", but don't be fooled: under its alluring cover this game will not treat you with velvet gloves. In fact it will challenge you just as much as other online bubble shooters or even more. This one here is a classic variation with only one level you have to master. If you're not able to clear all bubbles from the field and let them reach the bottom of the screen, the game is over. But if you have mastered the game once you will want to become better, faster and more skilled. This is how a good bubble shooter works. It's never over. There is always room for improvement.
This game is the little fluffy brother (or sister?) of one of the most played bubble shooters in the world. You will find it right at the top of this list: Smarty Bubbles.
More Games