Play Soccer Bubbles online in your browser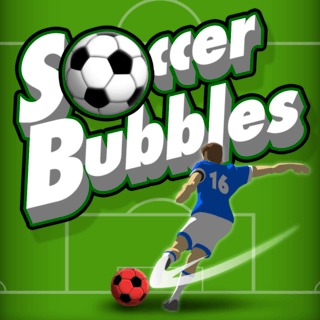 Free Bubble Game - Soccer Bubbles
Bubble shooter games have a tendency to be played by women most of the time. But not this one. With a soccer theme this free bubble game for iOS and Android will appeal to all the soccer enthusiasts out there.
A Football Bubble Game
Naturally, the premise is the same: remove all bubbles - or in this case footballs! Soccer Bubbles will run directly on your smartphone, tablet or PC. You don't have to download anything and of course it is completely free.
Just as Smarty Bubbles or Kitty Bubbles this free bubble game takes a more simplistic approach. And that is what makes it so appealing. No fancy power-ups, no levels, no tasks or goals. Just one simple rule: remove all balls! So far so good. But if you think this game will be a breeze to play through, be warned: to achieve a high score it is not just enough to always match 3 balls and clear them off the field. In fact, that's child's play. Professionals like you and me, we focus on the big clusters. The more bubbles you remove at once, the more points you will get. So aim for huge combos instead of focusing the small and easy solution. It will be much more rewarding in the end.
Reach the High Score
And after your first big victory you will not stop. It is what all good high score games have in common: you will want to come back and beat the last score. And this free bubble game is no exception.
If you are a soccer enthusiast or not, make sure you don't miss this classic version of the famous gaming phenomenon. There are only a few games with the same hooking appeal as the ones on our Top 10 list. But every single one of the games on this list belongs to the best and will not disappoint you in terms of fun and replayability. You can spend hours playing and try to improve. But you will get the same amount of fun and satisfaction out of this game if you just have 5 minutes to spare. So this truly is a game you can play anywhere and anytime.
It's simplicity and of course the wonderful soccer setting earn this free bubble game a place among the Top 10 bubble shooters. But maybe you're feeling more like playing the original game without a soccer theme? If you want to go old school there is always the classic: Smarty Bubbles.
More Games